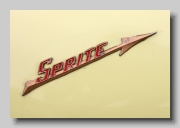 Austin-Healey Sprite Mk1 - boot badge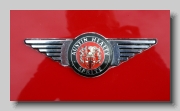 Austin-Healey Sprite MkIII - badge on bonnet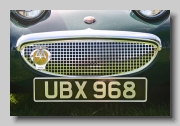 Austin-Healey Sprite MkI - The 'Frogeye' grille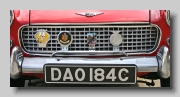 Austin-Healey Sprite mkIII - grille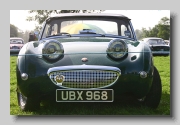 Austin-Healey Sprite MkI - the 'Frogeyes' were supposed to be pop-up headlamps but this solution was cheaper.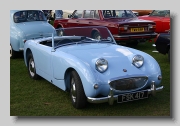 Austin-Healey Sprite Mk1. The BMC - Healey partnership was rekindled by the creation of this small Healey. Using an Austin 948cc engine and components from A35 and Minor cars, the Austin-Healey Sprite MkI sold almost 50,000 cars from 1958-61.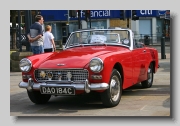 Austin-Healey Sprite MkIII. The MkII had introduced the squarer non-frogeye body, and with the MkIII the luxury of wind-up windows and quarterlights was given. The equivalent MG Mideget was the MkII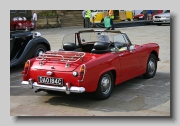 Austin-Healey Sprite Mk III went "soft" with larger winscreen, wind-up windows and more comfortable interior. The convertible hood could be fully removed, useful but the hood itself wasn't very good.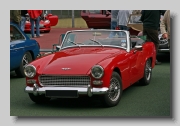 Austin-Healey Sprite MkIII. In 1963 the Sprite MkII and Midget MkI gained a 1098cc 55bhp A-series engine and disc brakes, and in 1964 the wind-up windows MkIII Sprite was launched.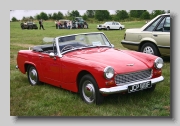 Austin-Healey Sprite MkIV. Produced from 1966-71, the MkIV Sprite (and MkIII MG Midget) gained the 1275cc engine and more comfort.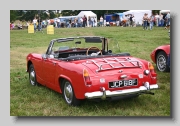 Austin-Healey Sprite MkIV. On the MkIV a new hood was fitted, being a fold-down type in place of the removable hood fitted on earlier carsw.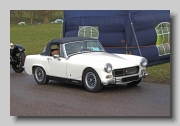 Austin-Healey Sprite MkIV 1969. From 1969 the Sprite and Midget models were revised with the 'British Leyland' style, consisting of matt black sills, plastic grille and rostyle wheels.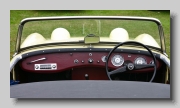 Austin-Healey Sprite Mk1 - interior of the 'Frogeye'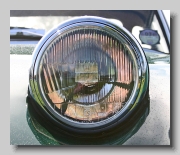 Austin-Healey Sprite MkI - the 'Frogeye'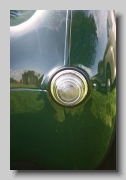 Austin-Healey Sprite MkI - front sidelamp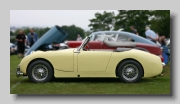 Austin-Healey Sprite Mk1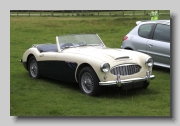 Austin-Healey 100, 100S, 100M, 100/6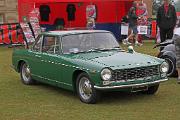 Innocenti Spider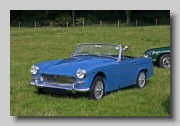 MG Midget MkI, II and III